So one month ago it was proposed that intrepid volunteers take up a painting challenge that would eventually lead to an entire army for Warhammer Fantasy. I've been burnt out on Fantasy since the ETC and release of 8th edition, so despite several projects I had in mind, I was really bent on doing something for an entirely different gaming system. Luckily, one needed only look 40,000 years ahead. Some discussion, dissent and a healthy amount of cajoling replaced Fantasy with 40k and the challenge was cemented. Each challenger would produce a predesignated amount of models per month, the first being this October past, and blog about it on our site. "Cool", said I, "count me in."
Right, so I dun' committed myself to a blog. First thing, which army to paint? I decided right away that I would abhor buying any new models given my enormous pile-o-plastic (really multiple piles, boxes, bags, trunks, vaults, etc.) and my empty wallet. What's cool, easily acquired, and I (like so many in this hobby) already have a ton of? Space Marines! I'm certain every single player to ever grace the battlefields of the grim, dark future has owned Space Marines at some point. I happened to have a Metric Ass Tonne of them, albeit in strange proportions (like 40 Terminators on sprue, but no land speeders, a couple of Land Raiders, but no other tanks). This was a good place to start for easy collecting.
I also happened to have an idea of what I wanted to do with them. Hmm, let me see, Space Marines, space marines... Marines... in Space!
US
Marines-IN-SPACE! Genius, Jarrett, genius. Excepting a few dozen nations and about a million babies, who doesn't like the Marines? My theme was decided.
Eureka!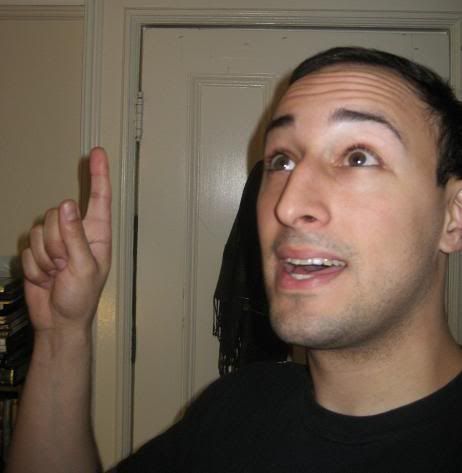 Now for this to work I'd have to keep the paint scheme dead simple (I have serious ADD when it comes to painting), but it would also have to represent the real US Marine Corps. I wanted something gritty and utilitarian, something not exactly realistic, but evoking realism. And there was No Fucking Way I was going to attempt to paint digital camo. Besides, painting successful camouflage is exactly the opposite of what you want to do for tabletop miniatures. Fortunately, one of the most iconic color schemes of modern military is also one of the simplest. Good ol' Olive Drab. I'd be hearkening way back to the 20th century, sure, but it would meet my criteria perfectly. Unfortunately this wasn't my first idea, and I squandered the first half of October fiddling with a ceremonial Corps Dress Blues pattern on my tactical squad. That said, I eventually came to my senses. There's little room for ceremony during a battle.
Last thing I needed was a name. USMC would be great to letter here and there throughout the army. I needed a word bigger and more future-y than states, one that starts with an S. Space starts with an S. They would be the United Space Marine Corps! AARUGHA!
So with that I painted my first model...
I was pretty pleased with the scheme. After basing the model with Testors Flat Olive Drab I applied base colors and then a generous amount of carefully applied Devlan Mud. I then went back over the model making minor corrections and picking out a few things here and there like purity seals, eyes and other details. The last stage is a generous helping of battle damage.
Having two blank shoulder pads would not do at all, so I decided to try my hand at freehand painting the Marine Corps emblem. I tweaked the famous Eagle, Globe and Anchor by adding an Imperial twin eagle head to the scheme, because what's better than an eagle? A motherfucking-twin-headed eagle.
Before I get to painting anything I come up with an army list I'm happy with so I have a place to start planning out what I need to get done. At the core of any Space Marine army are sergeants with hulking power fists. "You! Yeah, you. You're about to get your grape smashed."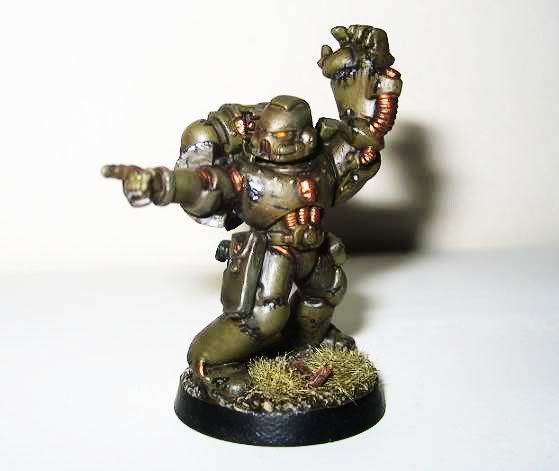 I also decided that, besides scouts, there'd be no fuckers without their damn helmets. In the nightmarish future I don't know what moron doesn't wear a helmet. No morons in my Corps.
The Compleat Combat Squad + Sergeant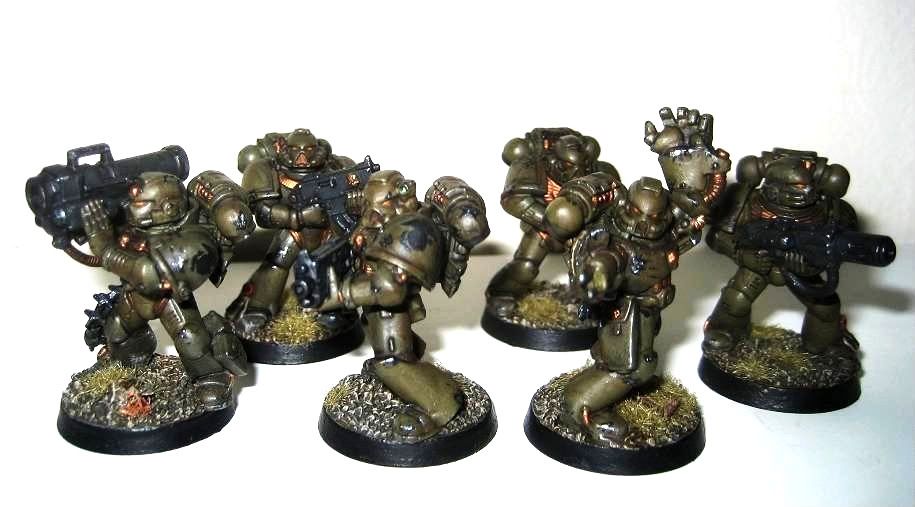 I've also been working on a combat squad of scouts. These guys are nearly complete, but not quite ready for their final photographs. Here's a preview:
As you can see, I attempted to sculpt green-stuff eight pointed covers on the scouts since as recon infantry they eschew heavy armor for stealth and mobility. They're pretty far for perfect, but that's about as good as I could manage without devoting hours and/or slitting my wrists.
I also replaced all the scout pistols with old-school boltguns. They look more compact than the modern ones, perfect for light travel and close-quarter engagements when operating in enemy lines. In order to get them to fit, I cut off their stocks and glued them to the inside of each weapon for a collapsible look.
Here's a closeup of the converted sergeant with a power fist.
Mid-stage.