Alright.. so I have to REALLY get my ass in gear if I'm going to get my elves FULLY done in time for the Colonial (April 28th or so). So hey... why not post updates of my progress on here? Is it worth a true painting artice? Not really. I'm no Matt Birdoff when it comes to painting. (Though I can certainly outdrink the SOB... and that's saying a lot.) But I figure if I post progress on pics on here, and I get a couple of you to comment and nag me about progress, it might keep me motivated. Plus, I might get a couple of useful hints along the way.
Besides, you're bored at work, and your company has yet to block this website, so you're surfing. I'm doing you a favor here!
Alright.. so, the #1 objective is to get a respectably playable army done by the end of April. This absolutely cannot slip. Luckily, it's close to completion.
The #2 objective is to get a completely 100% completely painted army done by the end of April. This deadline can slip. I'd rather it not happen... but it wouldn't be the end of the world.
The difference between #1 and #2 is that #1 is playable. The colors are on. Everything is shaded, to some degree. Models have eyes painted. The bases are done. The army looks fine enough at a 4 foot distance. #2 is where everything is highly shaded, all details are complete, and everything looks good at a 6 inch distance.
The #3 objective is to paint up units other than what's in the current army to be used when the new High-elf book is released. Things like eagles, cavalry, etc.
So, this is how these models get done... we'll start with the infantry. 80 odd infantry on foot. First off, I had to assemble and prime the SOB's. 7 pieces of plastic, all in all, for a sprearman. It's a bit of a pain in the ass, but it gives you the option of mixing and matching bodies, heads, torsos and arms to create a variety of models to use for shadow warriors, spearmen, archers, etc.
I spend a bunch of time cleaning the models, as I hate flash lines. Then I primed. Note: priming in the cold isn't the best. As you can see in the shield pic below, one of the shields came out powdery or bubbly. It's not terrible, but it's not great. Next time, I'll try to prime all my winter painting in the fall.
Once primed, the next step is to put on a wash of "scurf green". As a quick note, I've been using Valejo game colors. I actually prefer GW colors for tone (and for the theory that they won't fade as fast, as they're not vinyl based). Unfortunately, GW paint pots are total crap. They get clogged too easily, dry, etc. So Vallejo it is.
Anyway, back to the wash. The reason I do this first is that it covers the majority of the model. Therefore, I can just slop it on. Plus, if I water it down, which I do, it'll get into the cracks and crevices of the armor and make it look reasonably shaded--shaded enough to fit my criteria for #1: good from 4 feet.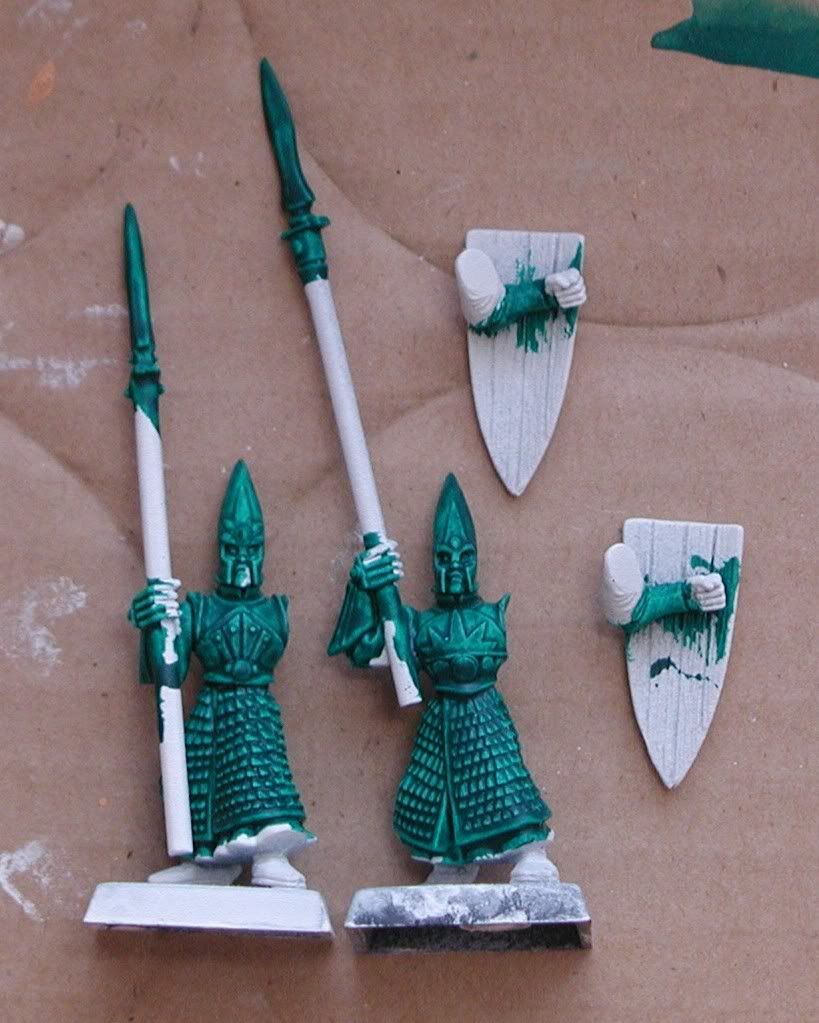 Once that's dried, I go in and put the rest of the basecoat. Purple for the spearshafts and cloth. Dwarf Flesh as a base for the skin. Black for the boots. Elf Flesh for the base (they're going to be walking on a beach... and though this color on the base will be covered up later, I like seeing it to get a better idea of how everything will look once complete).
As you can see, I did nothing with the front of the shields. Yet. I'm going to be painting 40 shields with a sea-dragon image and they all have to be as identical as possible. To that end, I have a clever plan... but that will have to wait.
To complete #1 for the infantry:
Next steps are to get gems everywhere, followed by completing the skin and eyes. Stick around for the next installment. (I promise it'll get better.)
Comments, suggestions, insults, etc. are all welcome. Now, get back to work, slacker!